I saw her first at the hotel. After returning from a depressing visit to the Museum of American War Crimes and an even more depressing visit to the zoo. She was sitting in the dining room, alone at a table by the window. She spoke to the waiters in Vietnamese. She smiled at them sadly. She sipped her drink. She stared out the window. I wondered who she was. Everyone at the hotel was either a tourist or a Russian. But she was Asian. And she spoke Vietnamese.
She was there everyday after that. At the same table by the window. Always alone and always with the same lost expression on her face. An expression that shifted to one of cheerful friendliness whenever one of the waitresses or waiters approached, then reverted to melancholy when they left.
*****
We arrived in Vietnam on New Year's Eve. A hot, dusty afternoon. Our Air France jumbo touching down on what seemed an abandoned airstrip, littered with the rusted hulks of American bombers and fighters, speckled with outcrops of bleached grass. The tiny airport was filled to capacity with wide-eyed chidren, blank-faced old men and women, and hundreds of young men, students or workers returning from one of the fraternal states. Most of them dressed in three-piece suits and wearing fedoras. The rest wearing cowboy hats, jeans, and fringed denim jackets.
We were waved through customs and immigration without a second glance. Outside, we were met by our guide. He introduced himself as Mr. Nyuk. A small, eager man with fleshy lips, thick black glasses, and a permanent, not altogether sincere, smile. He escorted us to a battered old green Ford which whisked us through bicycle-clogged streets to our hotel - the Cuu Long Hotel, a relic of the French colonial period, apparently once Saigon's finest. It offered a splendid view of the Saigon river, spacious rooms with chipped and faded whitewashed walls, stripped-down beds that looked like they had been hastily thrown together out of plywood and given one desultory coat of paint, and threadbare towels and sheets that had seen decades of bleach.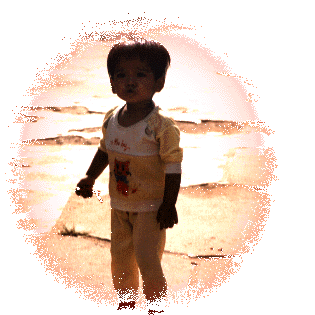 A high-speed, late afternoon city tour revealed the full extent of the city's collapse, as well as offering tantalizing glimpses of its past. Majestic, tree-lined boulevards, stately colonial mansions, banks and government offices, all stained and decrepit, all surrounded by barbed wire. Crowds of begging children surrounded us at every stop. Cripples - older and more persistent, more ruthless - tracked us for blocks. Cries of "Lien-su! Lien-su!" (Russian) met us at every intersection.
That night, the hotel's employees gathered in the 5th floor ballroom to celebrate New Year's - western style. Chairs were lined up along the walls and everyone sat quietly, sipping beer, dressed in their best white shirts and print dresses. A showband, straight out of the sixties, set up their ancient, battleworn equipment at one end, slipped into faded purple tuxedos and launched into heavy blues versions of the latest Western hits. Maids slipped off into storage closets to smoke fat joints of killer Viet weed, then staggered back into the ballroom, clapping politely at the end of each tune. Modest cheers at midnight ended the extravaganza.
*****
The next morning, Mr. Nyuk took us to the first stop on our itinerary, Cu Chi, once the base of the US 25th Infantry Division, now a "world-renowned" tourist attraction, famous for its miles and miles of Viet Cong tunnels. The drive took about two hours, through an endless sun-blistered, gently-swelling landscape of rice paddies, relieved occasionally by the solitary figure of a farmer hunched over in the distance or the straining backs of water buffaloes dragging a creaking, rusted plow through the mud. And if the image seems cliched, it's because it's true.
As we drew nearer Cu Chi, Mr. Nyuk explained to us how the entire area had been defoliated during the war. His English, though distorted by a very peculiar pronunciation, was really quite good. He was always popping out with complicated intellectual words that we had to look up in a dictionary.


As for Cu Chi, the devastation suffered there wasn't immediately apparent. The area had been painstaking replanted and resembled a tree nursery more than anything else. Closer inspection revealed scorched swathes of earth, crisped trees, and almost no undergrowth. Here, in a cold, gray auditorium, we were treated to a more detailed historical exposition by Mr. Nyuk, complete with maps and charts. For the benefit of a raucous crowd of Italian tourists, it was all translated into Italian.
We thanked him for his advice and headed for the central market. A huge warehouse of a building, it was crammed with shoppers and stalls, selling everything from dried fish to Japanese radiocassettes. We finally came out on the other side, and stood uncertainly on the curb, surveying the crowds. A moment later a smiling man dressed in tattered shorts and short-sleeved shirt, an old ARVN forage cap perched on his head, materialized in front of us.
"Hi, how ya doin?" he said.
We said we were doing fine. He asked us if we wanted a cyclo ride. A cyclo is a pedicab - sort of a bicycle rickshaw. He said he would take us anywhere we wanted to go, show us all the sights we may have missed on our official tour. Like the American Embassy. Apparently that was a major tourist attraction.
We were a little suspicious. There were thousands of pedicab drivers in Saigon and they all wanted to give us a tour.
He was insistent. And seemed like a nice guy. "Very cheap," he said. "One hour, maybe one dollar. You decide."
We agreed to take him up on it. He turned and waved at another man standing over by the ranks of parked pedicabs across the street. The man wheeled his pedicab over. We climbed in and set off.
"You wanna go bar? Very good bar. Video bar."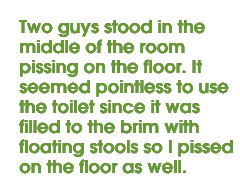 The place was empty when we arrived. An extremely good sound system was blasting out Iron Butterfly's "Inna Gadda Da Vida". A further confirmation that time had indeed stopped in Vietnam. The bar was quite large. The floor had three tiers and all the chairs were lined up facing one corner of the room. In that corner was a large video screen. We were told the show would begin in about an hour. Meanwhile we drank Saigon beer at 40 cents a can and listened to an endless parade of soul and rock classics.
Thac leaned over conspiratorially. "You want something to smoke?"
"Smoke?"
"Yeah, smoke. You know, grass. We can buy here. Very, very good." He grinned broadly.
We found ourselves in a bit of a dilemma. My first inclination is always to give people the benefit of the doubt. Kelly smelled a set-up.
"We can't do that," she said. "If we get caught with pot...they'll probably cut our heads off."
"That's in Malaysia," I said. "And it's trafficking in smack or opium or something..."
"Whatever. We still can't.."
Thac interrupted. You give us money. We' buy for you and we keep. Anybody come, you say it's that man's." He chuckled, pointing at Nguyen, Kelly's driver.
Nguyen nodded, grinning.
"How much?" I said.
"Fifty dong," said Thac.
Fifty dong. That was about a nickle. Scam or not, we didn't have much to lose. "Get a couple," I said, handing Thac a 100-dong note.
The dope was amazing. An intense body stone that glued you to your seat, your head throbbing to the beat of the hallucinatory music. Thac and Nguyen smoked most of it, smiling quietly at us.
The show finally began. Madonna Live in Japan. Familiar as the music was, the experience was bizarre. Somehow exotic, even thrilling. The pot had something to do with it, I guess. After about twenty minutes of Madonna, we were treated to Top of the Pops. Then came the entire Billy Idol video collection followed by a seemingly endless onslaught of Euro-disco. We were told the videos were brought in by Japanese and East European sailors.
By seven, the bar was packed . I staggered off for a piss. The restroom was ankle-deep in piss. Two guys stood in the middle of the room pissing on the floor. It seemed pointless to use the toilet since it was filled to the brim with floating stools so I pissed on the floor as well.
I returned to the bar to find rows of silent Vietnamese stared in complete absorption at the screen. Our drivers ignored us when we tried to speak. They sat solemnly, quietly, their faces rapt, fascinated by the endless onslaught of Western wealth and decadence.
Later Kelly had to take a leak. On the way back to the hotel, she tossed her shoes in the garbage.
*****