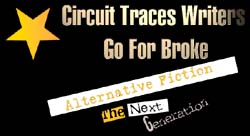 Are Web 'zines really the last resort of the unpublished and the unpublishable? Are they "irrelevant -- alternative, marginal, and largely unread"?
Not a chance.
THE WEB has been described as a "collection of wannabee talk show guests without an audience". Even worse it has unleashed millions of attention-starved losers on an unsuspecting world. Alone in their basements cranking out pathetic prose on cheap clones, these cyberwimps are using the Web as "a space-age projector for bad poetry and mediocre slide shows".

AND that gives quality 'zines like Circuit Traces a bad rap.

Are Web 'zines really the last resort of the unpublished and the unpublishable? Are they "irrelevant -- alternative, marginal, and largely unread"?

Not a chance. Just as the punk rock explosion of the late seventies turned the world of corporate rock on its head and laid the groundwork for today's so-called "alternative" scene, so today's ezines are undermining the foundations of contemporary publishing and paving the way for a new wave in literature. Sure, most of us won't survive, but the few that do will achieve the near-legendary status of such mainstream rags as Rolling Stone or The Face.

Seriously.

Meanwhile, here at Circuit Traces, some of our contributors have started to get serious. Todd Brendan Fahey, whose marvellous tale of drugs, the Beat Generation, and the ever-ubiquitous CIA -- Wisdom's Maw-- was first excerpted right here in Circuit Traces 1.4, has now had his novel published to rave reviews. "Deliciously paranoid," HotWired'sR.U. Sirius calls it, while the Village Voice wonders "if a movie deal is cooking with the acid."



Vern Smith is another Circuit Traces contributor now busy promoting his own book, a gritty, streetwise collection of linked short stories entitled Glue for Breakfast.You can read the title story in a recent issue of Circuit Traces.

More dazzling new work can be found in Circuit Traces 3.1. Check out Blue Henry, a finely tuned short story from Peter Damian Bellis, whose collection , One Last Dance With Lawrence Welk, is available from River Boat Books. Praised by Joyce Carol Oates for its "original and compelling style" and hailed as "a real display of virtuosity" by Jonas Agee, One Last Dance With Lawrence Welk shows once again why Circuit Traces is the Web's best source of new and compelling fiction.
xconnect -- writers of the information age. This collection features several Circuit Traces contributors including Tom Harper, William Lantry, Ray Heinrich, and Richard Fein.
The Skin of Culture
This brilliant analysis of technology and culture from Marshall McLuhan's heir apparent, Derrick de Kerckhove was excerpted in Circuit Traces 1.4.

Sex, Age, & the Last Caste.
Futurologist Larry Taub summarized the main points of his unique three- stage model of history -- both past and future -- in Circuit Traces 2.3.
Bits & Bytes
News for Writers
The Writer's Write
The Writer's Write is a new website for writers featuring a database of on-line publications to help writers, editors and publishers. They've also got an ezine. Visit them at http://www.gggpages.com/.
The Writer's Marketboard
This is a free service for publishers of all manner of publications and for freelance writers of all sorts.
Publishers can post calls for submissions, market information, contest notices and other opportunities they have for freelance writers. The Writer's Marketboard also features a section on Publisher's Resources, with notices for printers, book and periodical distributors, and other items of interest for publishers and editors. This is a way to draw attention and new talent to publications.
Writers' groups and organizations can post notices for meetings, workshops, and conferences. Editors for hire, producers of tools for writers, agents, and other parties providing services to writers can post "classified ads." They also have a section listing other Internet resources for writers, editors, and publishers.
Most importantly, writers can find markets for their work. There are over a dozen categories of market information available, with new postings every day. Free daily updates are available via e-mail. A new posting category allows writers to post mini-proposals for articles, books, syndicated columns, or other specific writing projects they have available. Visit The Writer's Marketboard at http://rain-crow-publishing.com/market.